What is FICO?
They define it as "the park of Italian food". 100,000 square meters of restaurants, stands, and attractions.
Sounds good, but let's see how it went.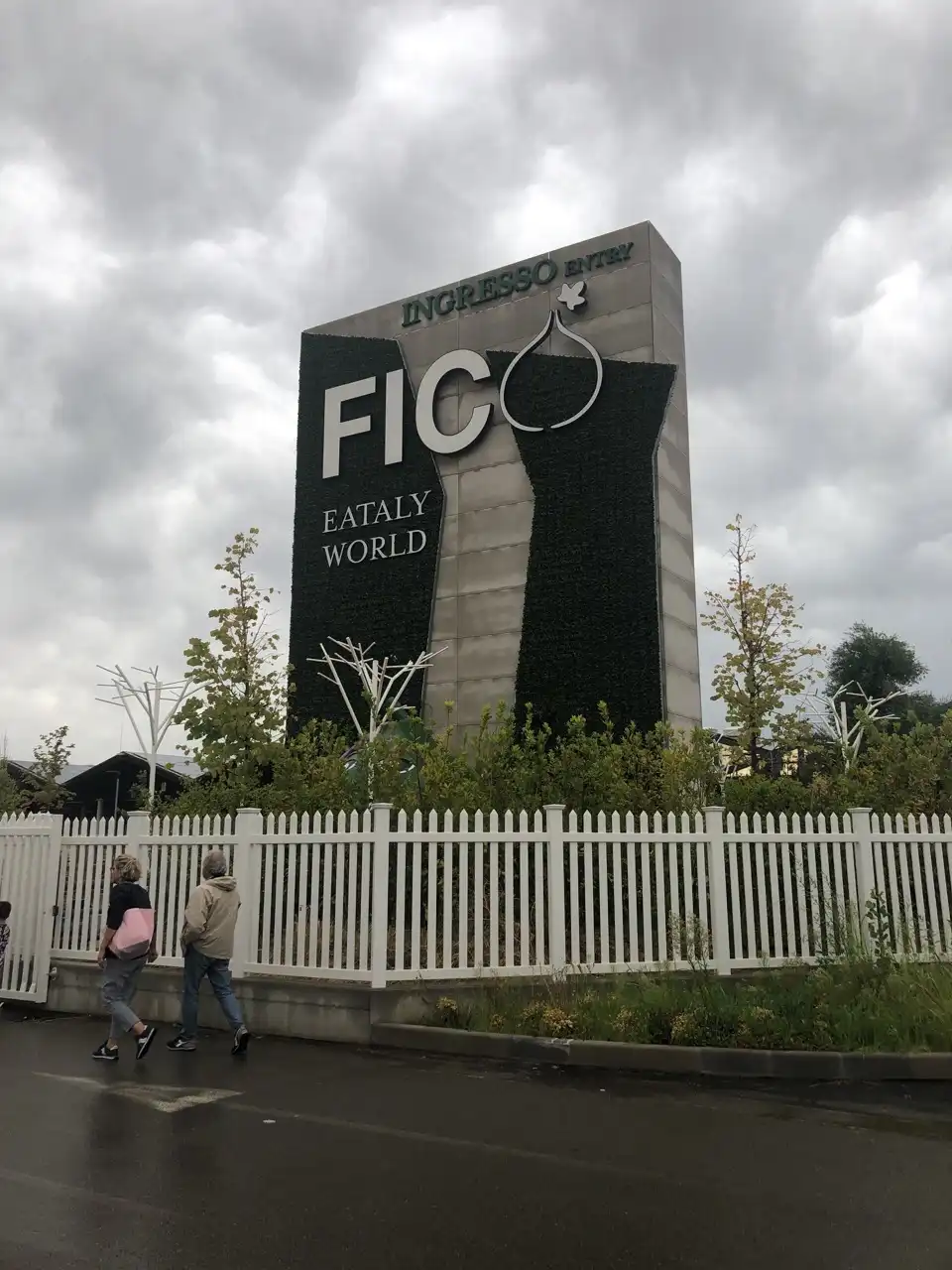 The travel
From Trento to Bologna the road is not that long. It was an adventure mainly because it started to rain a lot. There were a couple of moments where you couldn't see anything at all, so it was "four arrows" and 10km per hour for some time. Cars stopped on the sides of the motorway and trucks still go at 100km per hour. Some scary moments.
If you travel to Italy remember that many things are an opinion, including safety. Always keep your eyes open!
The venue
The first thing that welcomes us is the parking toll booths. Instead of the person who makes the tickets we find animal heads. A goat, a cow. Very nice, they made us laugh. We get closer and we notice that the toll booth is no longer of any use.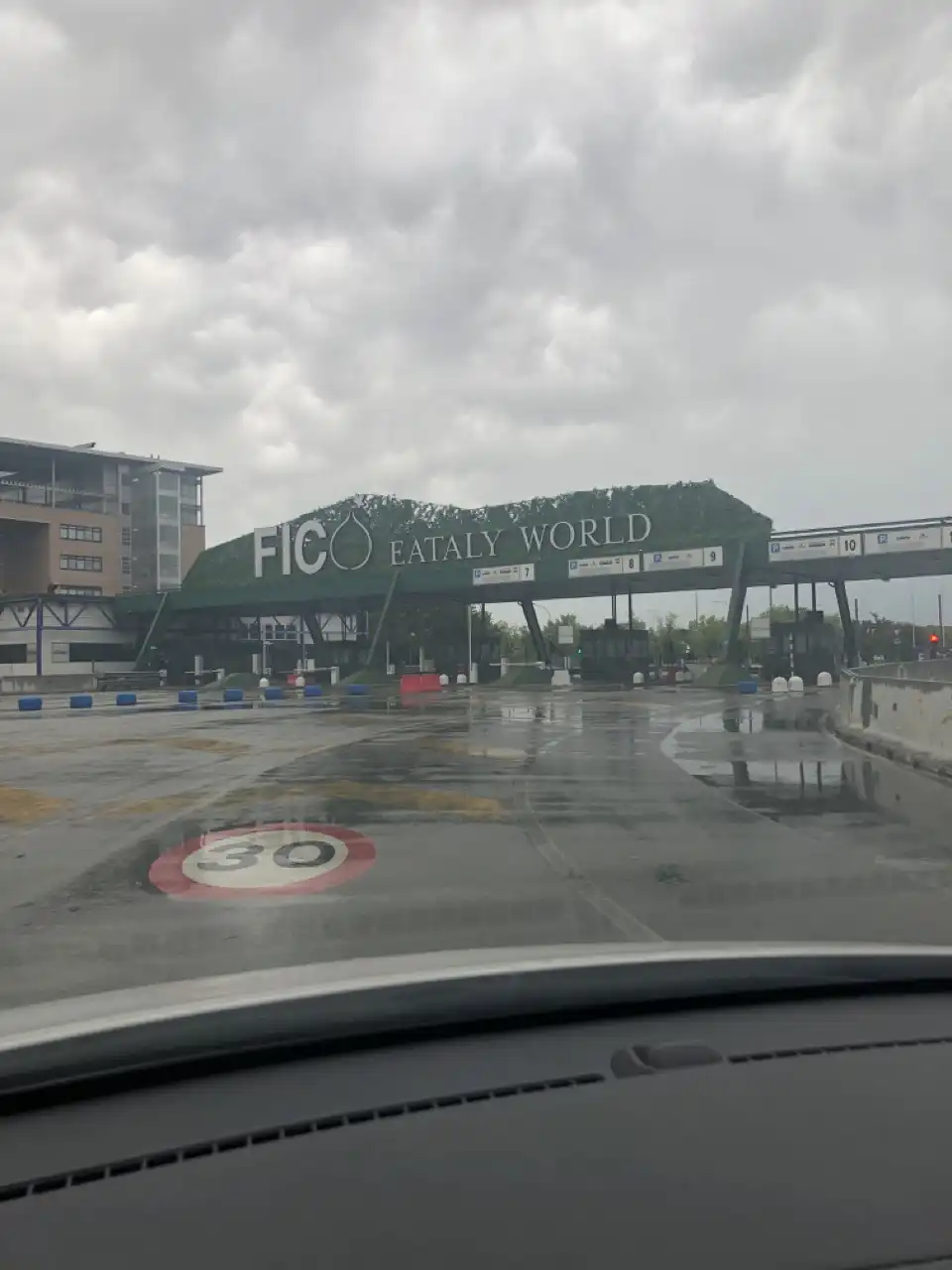 The ticket machines are out of order and you can enter and exit freely. I appreciate it when I don't have to pay for the parking space. At the same time, it seems a bit strange to me, I knew this place was famous and I was expecting a bit of a queue.
The thing starts to stink.
Once we arrived in the large parking lot it was not hard to find a place, there is room for an entire town.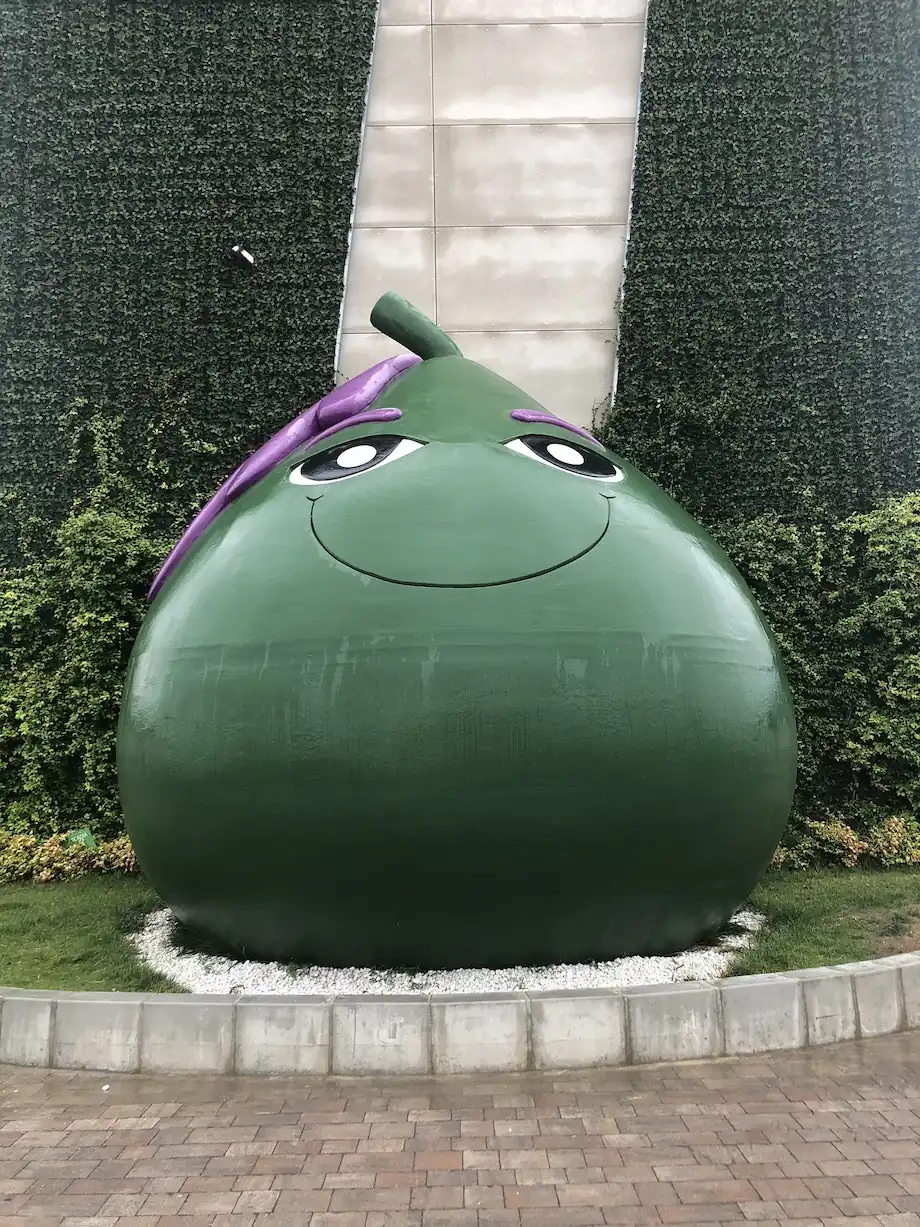 After two steps and passing by the huge mascot we enter the structure.
To enter was 10€ each. As we went there without too much preparation we noticed that booking online costs 8€. Given this cost, the hopes were somewhat high.
Who knows what experiences there are inside to even put the entrance ticket?
SPOILER: none.
Soon they tell us that the guided tour would start. We joined it.
The theme of the spaces is giant hanging food and equally large animated statues. Since everything is organized in thematic areas, you pass under giant olives or next to a bottle of wine that makes endless wine flow. All plastic of course and the idea is not bad, it's a bit like an amusement park for children but all food themed.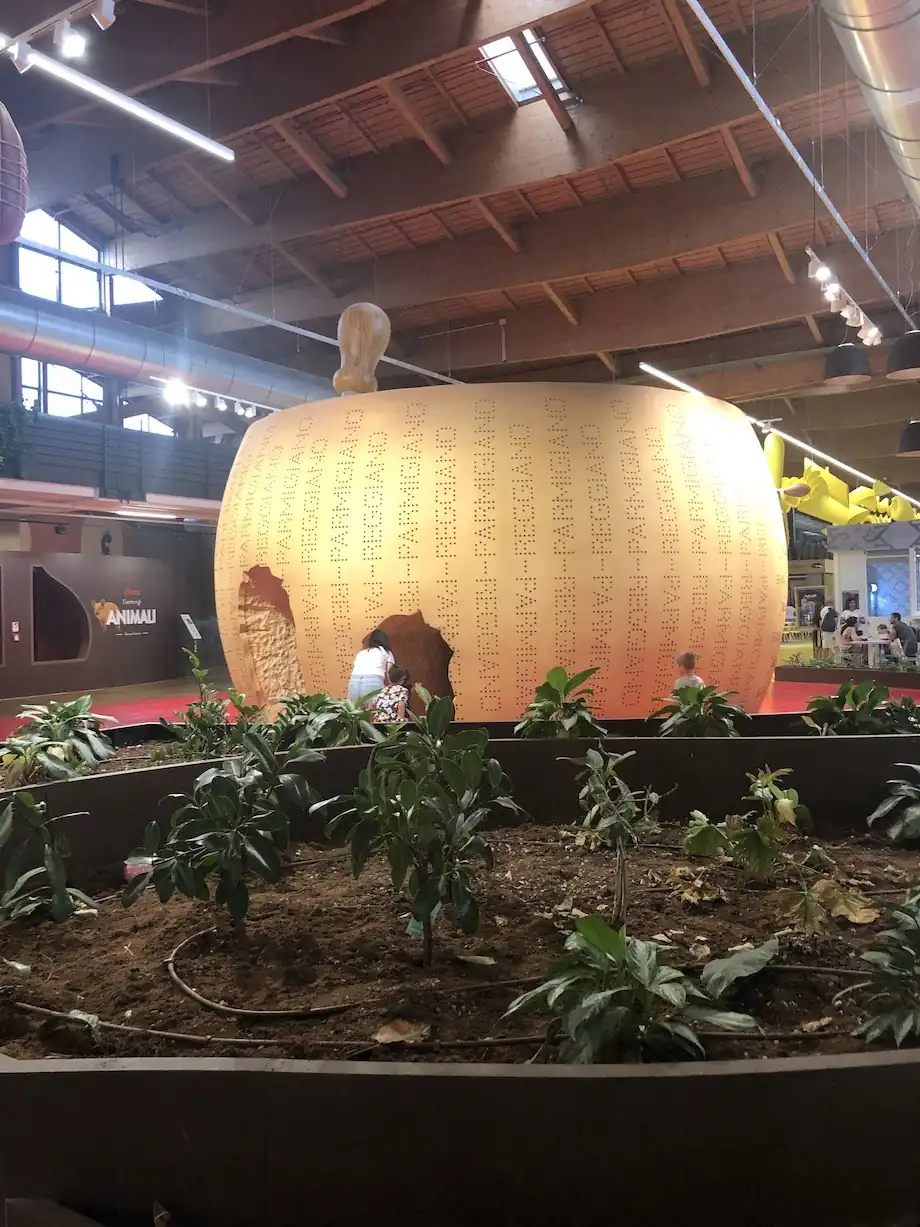 After a short time, we leave the guided tour. It was slow, the audio could not be heard well and added no value to the visit.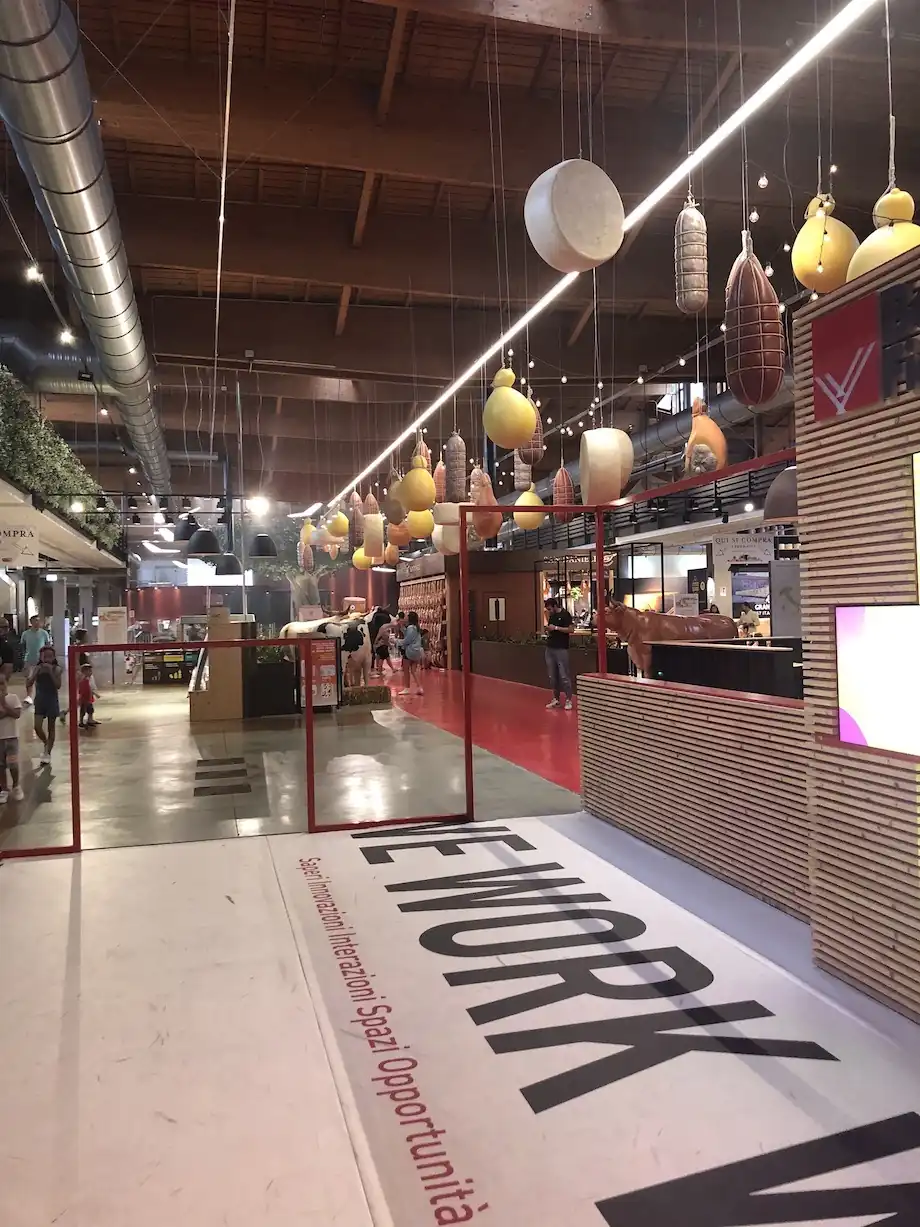 Something wrong
Walking among the stands we immediately realize that something is wrong. We expected to see people working on raw materials, cooking, and making things. Instead, all the stands with the exposed laboratories were empty. Immediately the part that interested us most is missing, that is to see how things were done. There was no need for an explanation like the "How It's Made" show but at least being able to browse was essential.
I immediately think: "Maybe it's the worst time, what a fool." For those who read and do not live in Italy, you should know that Italy stops working on August 15th. Try to avoid it.
We wanted to taste some beer but, unfortunately, the Baladin stand wasn't open.
We took refuge in the Fontanafredda stand. A nice winery with a hundred wines by the glass. All are well preserved in special refrigerators, set at the right temperature.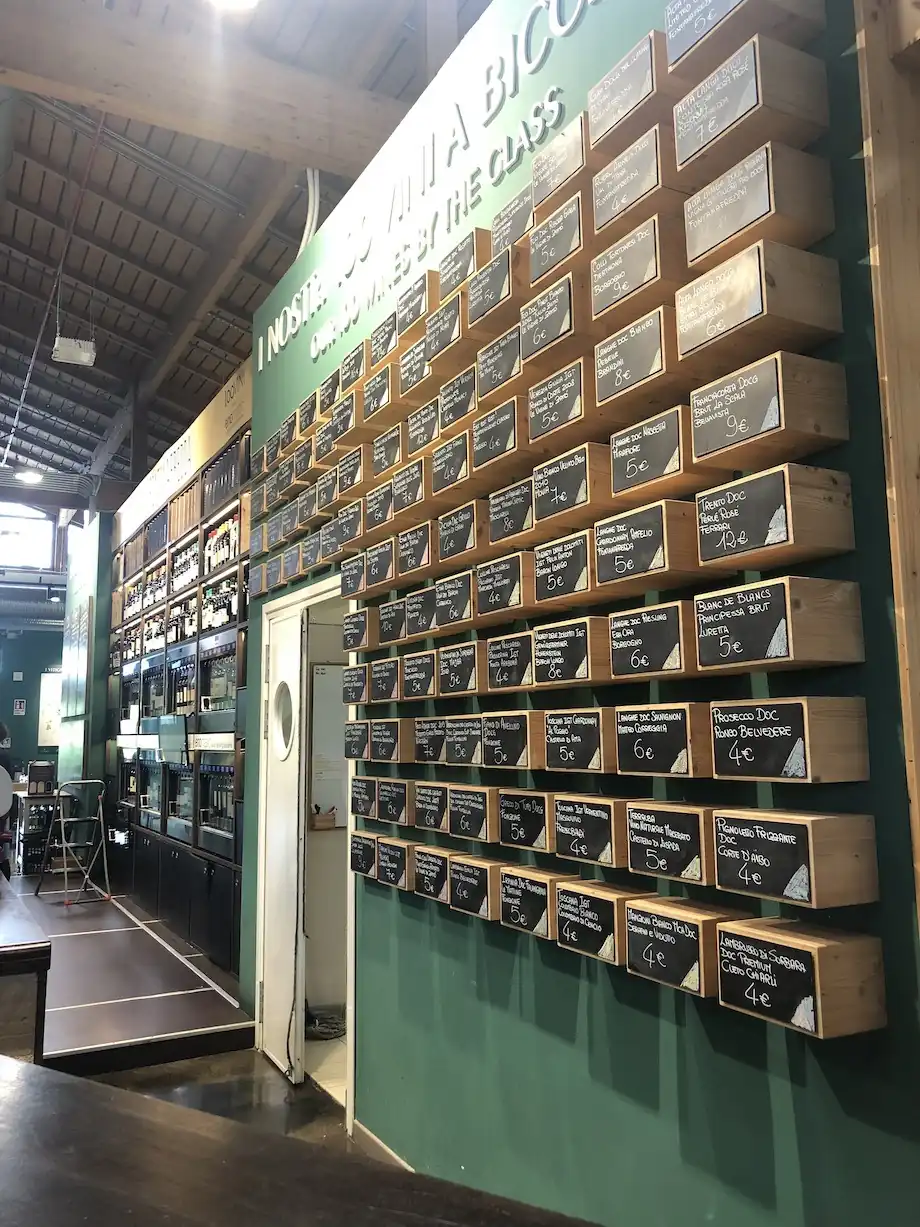 Looking for food
After the first round of glasses
Incrocio Manzoni 👏
Chianti classico (giovane) ✅
we decided it was time to eat something.
We want something based on fish because in Trentino there are not many places to eat it and not all of them are of high quality. We found ourselves wandering without any stand that inspires us. They were few and with little choice.
In the end, we sit at the stand of Pastificio di Martino. We take the appetizers and a calamarata. It wasn't bad and I discovered that their pasta must be eaten very "al dente". As I like it.
Let's explore a little
The place is big and there are things on every corner. Unfortunately, not all parts were accessible due to the work in progress.
Looking at the map it seems there are also open spaces with plants and animals. Well, we've seen all kinds of expectations about this place fly away.
The olive grove, for example, was really small. A few signs explain the quality of the olive tree you were looking at. That's it. Like going to a park and finding the forestry card that tells you what tree it is.
The vineyard was awkward. They are two metal structures where there should be vineyards. Only one had a vineyard, the other was empty. Small and ugly. Weeds everywhere. And to say that soon it would be proper period. The grapes are ripening and September is approaching. It made me sad and bitter.
In other parts, they show animals and agricultural tools, but speaking of the latter it seems to be at a second-hand dealer. There aren't even any signs telling you what the machines in question are.
At the exhibition level, we are really at a very low level. It's not worth it.
We had another round of glasses, this time we took a Greco di Tufo ✅. Good and spicy, I never tried such a thing.
In the end
As I said it is a place for families. But the quality of what we found left us surprised, in a negative sense.
The products are all very good but the general feeling is that of having paid to enter a big supermarket.
I went there with a friend and we felt a little out of place. Most of the visitors were families with children or elderly people taking a stroll.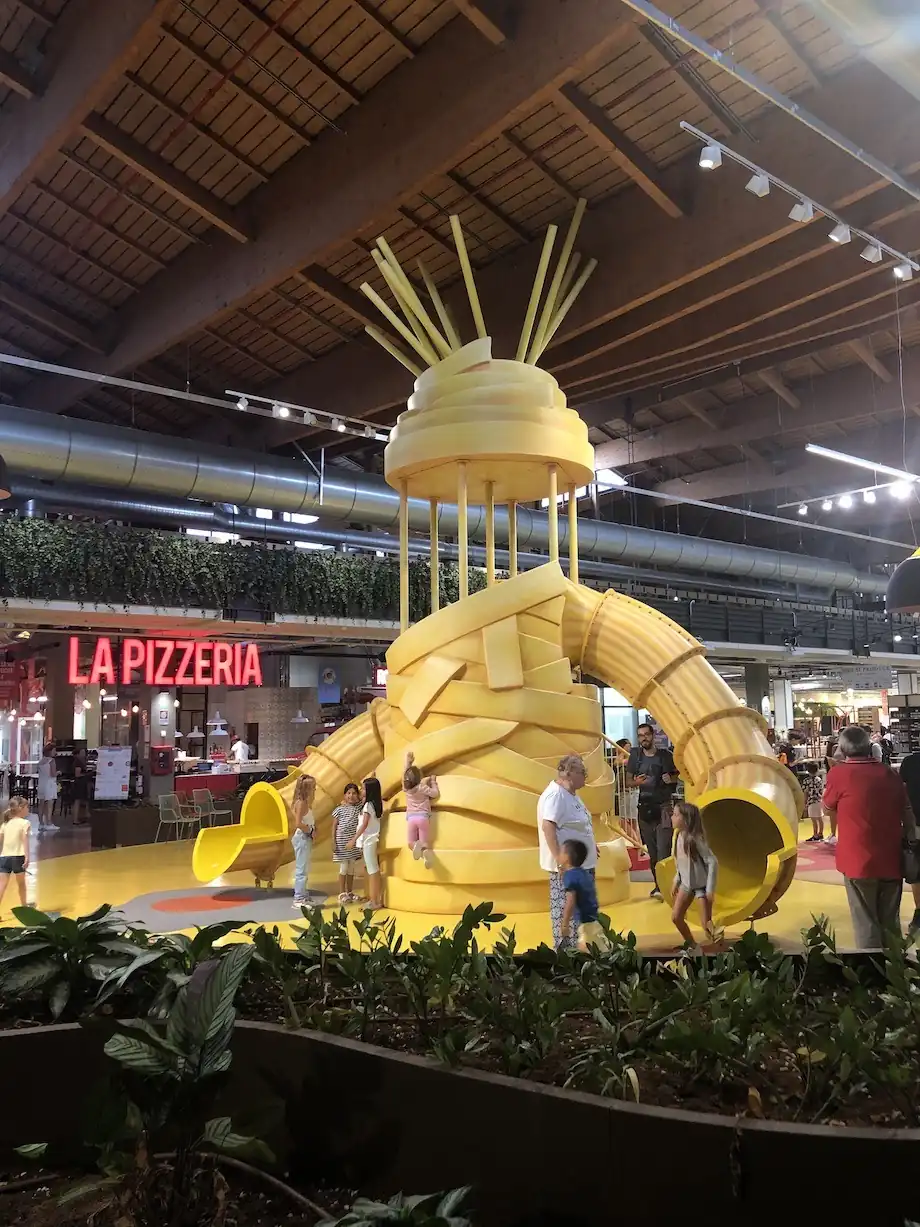 The real opportunities to find what we were looking for weren't as many as they might seem. We were expecting a lot more interesting places with a lot more choices.
It is understood, however, that everything was designed to be more alive and lively but — perhaps because of the covid — things didn't go according to plan. Considering that there are so many parking spaces, a hotel left unfinished and half in ruins, the expectations of the owners were certainly much higher. Instead, at the moment they are caring little and focusing a lot on families using only what they have available.
As mentioned, perhaps it was the wrong time to go and visit it but we wondered why they kept it open anyway or why they still charged the ticket anyway.
However, we think that within a few years it will be an ecological monster abandoned on the edge of the highway. So if you want to have this experience I would say that it is better if you do it as soon as possible.
We went back home with a couple of bottles of wine and the thematic tune in our head that was constantly shot in our ears.