Here we are with the rewind of August 2022.
The heat in Trentino has dropped a little and finally, we have seen some rain. It was starting to be a problem.
Like every August I saw at least two weeks of "desert". People have gone on vacation and gyms have been closed for a while.
Luckily we have always found alternative places to climb.
Summer is over? Here we start to wear the sweatshirt in the evening and in my opinion it is a sign. The time to eat grapes has come.
Let's start!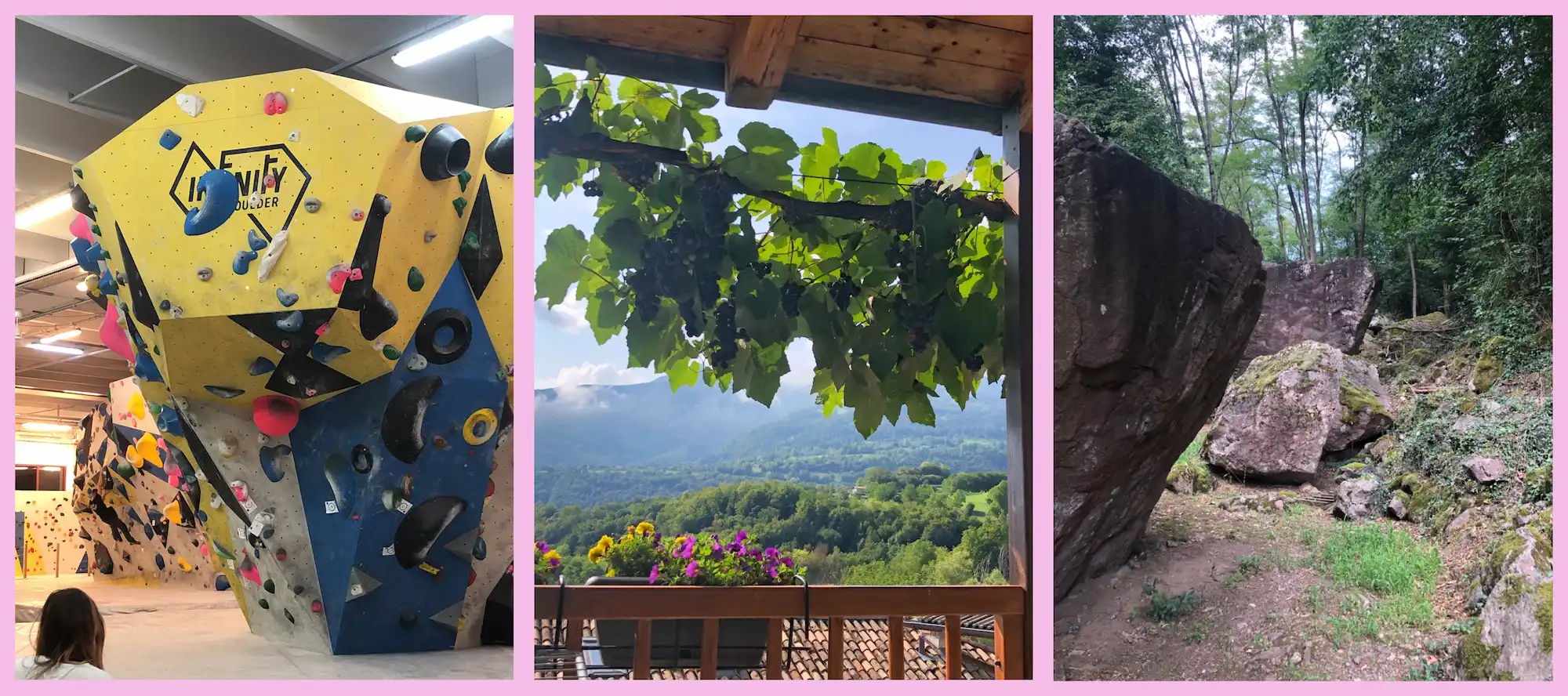 Personal
What I tried to do this month was to focus more on reading and physical training.
I'm satisfied from both points of view. Despite the difficulties of the month I managed to hang out with people and study well.
Went to Bentonico a couple of times. It's always amazing to hang out there and strengthen my relationship with those who I work with.
Had some very deep discussions with beautiful people.
Despite the two weeks of—almost—stop, I managed to do my first grade C boulder problem. A lot of satisfaction!
The wall I cleaned under my house proved to be useful in not losing the techniques I learned.
Did some training during some lunch breaks. Then I felt the difference in the afternoon.
Discovered a bouldering park in the village below my town. It needs cleaning and some problems to be solved but I hope that in the future we will be able to use it with the group.
Tried a new training system at the climbing gym. All aimed at increasing resistance. Climb and descend—without pause—many times on a low-grade wall and pay attention to the movements. The method works.
Excursion to Terragnolo with a stop at Il Masetto. Take the cake, it's very good. We also stopped at a bivouac to shelter from the rain. We lit the fire and ate by candlelight.
I picked up the Korean again. With reading skills, I think I am at a good point. There are just a couple of letters go into my head. The longest part will be building up a vocabulary and learning common phrases.
Work
I am gaining more and more experience on Reddit. It is proving to be an incredibly effective tool for making yourself known and helping out other people.
Worked a lot of Traefik to understand how to manage HTTPS certificates in a rather particular deployment flow. I should use it even smaller to better understand some little-used mechanisms.
Added new services to Fortressa. Caddy and LanguageTool.
Restarted working on hirebud.com.
Open source
Given the additions to Fortressa I was able to make several requests and pointed out some things in different projects.
This month I saw:
In September I want to put some work into my Pelican Plugin. Some improvements are really needed. For example, it takes some time to start even if it's not the first run.
Associations
Created the About and Support Us pages on the Speck&Tech website. What have I learned?

Never neglect a site for too long.
Even the simplest things can take a lot of time (this is not new but it always comes back).
Start with the most basic contents.
Books
I didn't think it was that long. Especially since I want to take it easy on all the steps it requires a lot of concentration. I'm well underway but I don't think I can finish it this month. Considering I started in the middle of the month I'm well on track.
I restarted it a couple of times. I guess I'm not really in the mood to read such a thing. But it seems well written and I'll keep trying.
I've already read it, but I'm keeping it on my bedside table, and in the evening before going to sleep I read a small chapter. Just for inspiration.
Books are tools, I'm trying to keep that in mind.
Music
Some significant pieces of the month.
And a great comeback. Not that they ever leave me.
Videogames
Yes, this month we also have this category. I wasn't playing a lot in general.
In the past few months, I finished a few chapters of The Dark Pictures Anthology (Man of Medan and Little Hope). At this point, they are among my favorite games of all time. For sure having played them with the right friend and the beers has multiplied the experience by a thousand.
Masterpieces for real. I highly recommend them.
Speaking of this month:
I finished Stray. The kitten's journey is well done and emotional at times. It doesn't last too long and is simple to play. An after-work game.
I started Batman: Arkham Knight. The game is now somewhat old but it is noticeable only a little and only in certain details. It has a crazy amount of things to do. The great thing is that everything is well cared for anyway. They have inserted details everywhere. The story for now is just what you expect from a comic, well done. Also, the sidequests are interesting.
I've also played competitively Street Fighter V and Multiversus several times. The latter has been a drug for a couple of days. Stay away from it 😂
Coming next
I thought I had done little this month but the truth is that summertime passes in a strange way. It is slow and fast at the same time. What I did at the beginning of the month I feel like I did three months ago.
In September I plan to move on with the Korean language, consolidate the progress in bouldering, finish the books in progress and then start others.
At the end of the month there will be a trip to Portugal—Porto. I can't wait.
Who knows what else there will be? For new and exciting adventures stay tuned 📡
Bye 👋